Defining Moment – Antônio Rodrigo Nogueira
Author : Jack Barrington
1314208258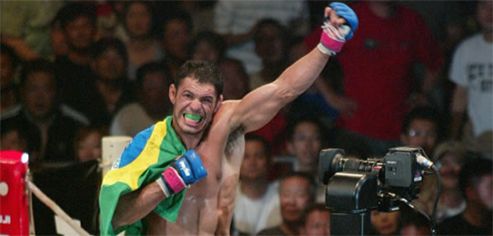 Antônio Rodrigo Nogueira is a fighter everybody loves. While opinion on how he will actually fare against Brendan Schaub at UFC 134 this Saturday is divided, fan support for "Big Nog" remains constant. There's a reason for that. While most fighters are lucky to be involved in a fight worthy of defining their own career, Nogueira can lay claim to moments that define the sport itself--and not just the sport, but the best things about it.
When struggles to victory like his wins over Bob Sapp and Tim Sylvia fall short, and smooth, domineering triumphs like his wins over Mark Coleman and Randy Couture don't even get a look in, you know you have a special fighter. His defining moment is a special fight, too. It's one of the greatest MMA fights of all time: his fight with Mirko "CroCop" Filipovic at Pride Final Conflict 2003.
This was an important fight for Nogueira. Dethroned as heavyweight champion by Fedor Emelianenko at the start of the year, his only win in 2003 was a lacklustre victory over Ricco Rodriguez at Pride Total Elimination 2003, where Nogueira took home a close decision that was wrongly disputed by many fans. People were not quite ready to write Nogueira off, but few favoured him over a Mirko CroCop who was, at that point, the scariest heavyweight in MMA.
CroCop's last three fights had lasted a combined time of less than six minutes. He had finished Heath Herring, Igor Vovchanchyn and Dos Caras, Jr. (now known as the current WWE Champion Alberto Del Rio) with the blend of supreme calm and extreme violence that had marked his ascent in the sport. People had no answer for CroCop's striking; for his takedown defence; for that left leg of his, which itself had sent all of his last three opponents to the canvas. Now it was up to Nogueira, coming off of a loss and an underwhelming win, to conjure some sort of response.
CroCop began the fight the same way he had finished his last three, stalking his opponent and looking for the finish. One sided rounds always seem to last longer than usual and this was no exception. For ten minutes, Mirko CroCop looked like the best heavyweight in the world and Nogueira looked out of his league. Nogueira was set up with pawing right jabs and then battered with hard straight lefts, his attempts to tie up for a takedown shrugged off easily. When the fight did hit the ground early on, CroCop looked untroubled in top position as he landed a series of sharp hammerfists. This didn't look like the second and third best heavyweights in the world, it looked like a mismatch.
It was almost over at the end of the first round. After picking his man apart for the best part of ten minutes, CroCop nearly finished things with his trademark head kick--thrown with all of its usual venom. Fortunately, for both Nogueira and MMA history, the kick didn't land flush and, while he was knocked down, Nogueira was still conscious as the bell rang out to end the round.
Just surviving the first round was a feat in itself. Most men would have crumbled after the first straight left landed, or quit after taking that head kick. Nogueira didn't. He knew how to survive—he'd spent his life fighting what most would consider lost causes—now he would show what it was to win.
Showing no fear, Nogueira began the second round with the same intentions as he had the first. Trusting his own resilience and perseverance, Nogueira tied up with CroCop again and, finally, took him to the ground. After spending ten minutes showing his heart on the feet, Nogueira now proved his class on the ground.
Moving effortlessly to the mount, Nogueira landed his first meaningful strikes of the bout, forcing CroCop to try to buck him off. In the split second that CroCop left his right arm vulnerable as he tried to turn, Nogueira took it home. Cinching in an armbar and forcing the Croatian to tap, before being mobbed by his teammates in celebration.
Nogueira had spent an entire round surviving in his opponent's world. He was close to being finished, he was even saved by the bell at one point, but he survived. It was "Minotauro" Nogueira, what else was going to happen--the old saying about how "Nogueira didn't lose fights, he just ran out of time", rang true here.
It was a great fight and one of the sport's greatest moments, which is why it is Nogueira's defining moment, too. Because that's what he does, Antônio Rodrigo Nogueira, it's why the fans love him – he makes you remember why you love MMA.