Sixteen men filled the dressing rooms at Japan's famed Ryogoku Kokugikan getting taped up, going over last minute instructions with the officials, and getting prepared for what was at that point the biggest tournament in the history of the sport which would come to be known as Mixed Martial Arts.
Normally reserved for larger than life athletes participating in one of Japan's most revered martial arts, for two nights in December of 1994, Sumo Hall was the site of one of the most formative events for another budding sport. Despite the developments going on in North America in the early 90's — and the revisionist history surrounding them — where Royce Gracie was introducing the world to Jiu-Jitsu and making fools of opponents who had no concept of what he was doing, the original King of Pancrase tournament was crowning the best fighter in the world.
Of the 16 men competing in the tournament, no fewer than five became legends in the sport of Mixed Martial Arts. Given the era which this tournament was held in, that is an almost appalling number. To win the title "King of Pancrase" not only did a fighter have to overcome the assembled field, but they had to win two fights on consecutive nights, which is an even more amazing feat when you look at the activity level of today's top fighters. It should come as no surprise then, that while determining the inaugural class of inductees for FightLockdown's Hall of Fame, three of the charter members were present in this tournament's field of 16.
Although each man's success differed greatly in this particular tournament, when assessing their careers as a whole there is so much difficulty in separating these three fighters that — unlike Kazushi Sakuraba and Royce Gracie who each hold their own singular place in the history of MMA — it was deemed that even though Ken Shamrock, Masakatsu Funaki, and Bas Rutten are all worthy of their own individual articles, they should instead be written about as a holy triumvirate of sorts in regards to the infancy of Japanese MMA. However, this piece will not serve to just recap the accomplishments of three of the truest legends of the sport, but strive to be an homage of what each of them has meant to the sport.

Sadly, the prevailing image of Ken Shamrock to the majority of Mixed Martial Arts fans is one of him being not only beaten repeatedly in the ring by Tito Ortiz, but also being made to look bad on TV. Shamrock was a man who could bring in viewers regardless of his relevance, and that innate quality led him to a 4-8 record since the new millennium. Both the record and his enduring popularity are part of his lasting legacy. Ken's record over the course of the last decade also coincides with another landmark event which shaped his career, that being his return from professional wrestling.
His roots as a professional wrestler, and continuing forays into the sport showed that despite being a great fighter, "The World's Most Dangerous Man" was always stuck somewhere between that role, and his role as an entertainer. It's no wonder that he was one of the brave individuals to lead the transition in Japan from professional wrestling to legitimate fights. Shortly after doing so, Ken became known as the best fighter in the world by winning the aforementioned King of Pancrase tournament, avenging a defeat to Royce Gracie, in a fight that was officially called a draw (where Shamrock won a moral victory if nothing else), and becoming the first UFC Superfight Champion. In 1996, still considered by many the best in the world, Shamrock walked away from the sport which he apart from all others helped to build, in order to pursue a career in the WWF (now the WWE). That last statement should probably be clarified in order to avoid the wrath of those reading. Ken Shamrock was the only person who simultaneously helped grow what was a fledgling sport in both Japan and North America, despite the vastly different sports and fighting cultures between the two regions. Ken Shamrock was the first superstar in the Mixed Martial Arts world.
The move back to professional wrestling almost instantly ruined Shamrock's career as a Mixed Martial Artist, due to the injuries he sustained while working for the WWF, but it also was one of the moments that someone with a fine eye could pinpoint as a defining moment for MMA as a whole. Many people had no idea who Ken Shamrock was until his stint with the WWF, this writer included, and he brought many people over to the sport of Mixed Martial Arts when he returned to the sport. His biggest accomplishment after his return was creating the first mainstream buzz for a UFC event, when he faced off with Tito Ortiz at UFC 40. Despite already showing that he was well past his prime as a fighter, people watched that fight like they hadn't since… well, since Ken Shamrock was fighting in the UFC (he held the record for most PPV buys from UFC 5 until UFC 52). Some of the higher-ups at the UFC have gone on record to say that Ken Shamrock may have saved the UFC by bringing in the numbers that he did, since that was the first time MMA had found financial success in North America in nearly 10 years.
Such is the legacy of Ken Shamrock. Even when he had nothing left to offer the sport as a fighter, he contributed in any way he could. One of the true legends of the sport, not only as a fighter, but as a builder, Ken Shamrock is more than deserving of his spot in FightLockdown's MMA Hall of Fame.
Career Breakdown:
- Career Record: 27-13-2

- Accomplishments/Titles: Won Original King of Pancrase Tournament, First King of Pancrase, First UFC Superfight Champion

- Notable Wins: Masakatsu Funaki (x2), Bas Rutten (x2), Maurice Smith, Manabu Yamada, Dan Severn

- Defining Moment: Because of his influence on the growth of MMA in the East and West, Ken almost deserves a defining moment for each, but his victory in the original King of Pancrase Tournament trumps all his other accomplishments.
Bas Rutten's legacy in Mixed Martial Arts can be summed-up so simply that it almost seems as if the man is being done a disservice. Simply put, Bas Rutten is both one of the most popular and most dominant figures in MMA history. It sounds so simple, yet it entails so much.
Perhaps the man with the most charisma in Mixed Martial Arts, Bas is also one of the most visible figures in the sport. First he gained notoriety as one of the very best fighters in the world, then as a long time commentator for PRIDE, and finally moving into a television role on Inside MMA, Rutten has found himself in the spotlight since the earliest days of the sport.
As far as his accolades as a fighter go, Bas was the first fighter to come from a kickboxing background who developed into a complete fighter. A quick glance at his record will show you that Rutten never lost after his 11th professional fight, and even his early losses came against only the elite fighters in the world (Funaki, Frank Shamrock, and Ken Shamrock x2).
Any fighter who served as a pioneer on the level that Rutten did for the kickboxing and striking communities as a whole, is clearly someone who belongs among the legends of the sport in the Hall of Fame. In addition to the weapons that he brought to the sport from his striking background, Rutten showed a preternatural ability to absorb the other aspects of the fight game. This was evidenced by the fact that after only two years of training grappling, he was submitting foes just as regularly as he was knocking them out. It was his complete game which led to Rutten finishing his career on a 22-fight unbeaten streak, a feat only matched by the great Igor Vovchanchyn and Fedor Emelianenko.
Unfortunately, Bas' fighting career was cut short by a string of injuries, as it seems so many great athletes are. Due to his massive popularity, charisma, and almost cult-like following among ardent MMA fans, Rutten was selected to become a commentator for Japanese promotion PRIDE. Adding his voice to the PRIDE broadcasts from 1997 through 2005 may have made Rutten even more popular in his retirement than he was during his career. Many fans who may not have had access to his numerous exploits in the ring certainly still know the man's voice and some of his signature calls. I would be condemned by my peers were I to not mention than not only did Bas popularize the use of the devastating liver shot during his fighting career, but made it his mission in life to utter the phrase whenever possible while commentating (if you can find a video of Bas Rutten vs. Jason DeLucia 3 from Pancrase: Truth 6, that will say more than words ever could about the true power of the liver shot). Unlike anyone since him, Bas combined otherworldly enthusiasm with an almost unmatched first-hand knowledge of the sport, and due to that, when any debate arises about MMA commentary, you can be more than certain that a majority of those involved will side with "El Guapo".
For a man who is not just arguably the most popular MMA fighter ever, but was also a champion in multiple organizations, and a true pioneer of the sport inside the ring as well as an ambassador for it outside of the ring, there is no other place that Bas Rutten should be, than among the first to enter FightLockdown's Hall of Fame.
Career Breakdown:
- Career Record: 28-4-1

- Accomplishments/Titles: Two-Time King of Pancrase, UFC HW Champion

- Notable Wins: Minoru Suzuki (x2), Manabu Yamada (x2), Maurice Smith (x2), Frank Shamrock (x2), Guy Mezger, Masakatsu Funaki, Kevin Randleman

- Defining Moment: As all of Rutten's early losses came because of his lack of a submission game when starting out his MMA career, avenging his loss to Masakatsu Funaki in one of the greatest fights in Pancrase history at the 1996 Pancrase Anniversary Show has to be one of his crowning acheivements. His trilogy of fights with Frank Shamrock is a close second.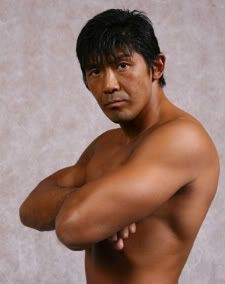 It almost feels cheap to begin this dissertation by stating that Masakatsu Funaki is by far the most underappreciated figure in the history of Mixed Martial Arts, but when the man is brought up, one cannot help but feel that he rarely gets the credit due to him. For those not familiar with Funaki, that statement may seem simply like hyperbole. However, to those who recognize the impact he has had on the sport, if anything it is an understatement.
For you see, were it not for Masakatsu Funaki, Japanese MMA would not exist in the way it does today. Or, that should say, the way it did at its height. That means no Kazushi Sakuraba or any other Japanese stars, and perhaps even bigger, no PRIDE Fighting Championships. Funaki meant that much to the development of the sport in the east. He essentially founded it, made it popular, and made it financially viable.
Masakatsu Funaki started, as did many of the Japanese Mixed Martial Artists to follow him, in the country's deeply rooted professional wrestling circuit. He was the youngest wrestler to ever compete in New Japan Pro Wrestling, and later one of the top draws in the UWF (a pro wrestling promotion which was a precursor to MMA in the country). His wrestling career only foreshadowed the even greater success and popularity Funaki would enjoy in MMA.
1993 is the year Funaki changed everything. Along with friend Minoru Suzuki (the second most under-appreciated man in MMA, for this writer's money), he founded Pancrase, and despite the existence of Shooto four years prior, the landscape of MMA in Japan instantly changed. Pancrase was wildly popular, without a doubt paved the way for PRIDE FC, and with it, the golden age of Japanese Mixed Martial Arts.
Not only did Funaki found Pancrase, but he was also one of its three most successful fighters (along with Ken Shamrock and Bas Rutten). In addition to having the distinction of being a two-time King of Pancrase, Funaki is the only fighter in history to have victories over both fellow Hall of Famers Ken Shamrock and Bas Rutten. He was also Ken Shamrock's first trainer in catch wrestling, making him a successful fighter, trainer, and promoter. Something very few, if any, MMA figures have accomplished since.
In 1999, after six years and a staggering 48 fights, Funaki decided to retire due to accumulated injuries. However, he was not quite ready to leave the MMA world behind, as six months later, he came out of retirement to face legendary Rickson Gracie. Despite all the successes he enjoyed in the ring, and the fact he was one of the greatest submission artists of all time, Funaki's crowning achievement may have come in his fight against Gracie. Even though he was unsuccessful in his bout to hand the Brazilian his first defeat, Funaki managed to break the orbital bone of the most notorious Gracie. Although he was removed from his prime at the time of the Gracie fight, Funaki always showed a warrior's spirit that would make Kazushi Sakuraba blush, and accepting the challenge of Rickson is his greatest example of that.
Masakatsu Funaki's legacy is that he was a pioneer in the truest sense of the word, both in and out of the ring. He fought and beat the best fighters of his generation and accepted all challenges thrown at him. When looking at the Japanese, his in-ring success is only exceeded by Kazushi Sakuraba, and his efforts outside of the ring paved the way for a generation of Mixed Martial Artists, organizations, and fans. The most fitting way one can describe Funaki, and the biggest compliment that can be paid to the man, was that he was and is, the most instrumental figure in the rise of Japan's mixed martial arts scene.
Career Breakdown:
- Career Record: 39-13-1

- Accomplishments/Titles: Co-Founder of Pancrase

- Notable Wins: Bas Rutten, Ken Shamrock, Minoru Suzuki, Frank Shamrock, Guy Mezger (x2)

- Defining Moment: Three months prior to Ken Shamrock being crowned the King of Pancrase, Funaki submitted him in what was Shamrock's first legitimate loss in Japan.